How to Wear Face Mask
From Asia to Europe, from Africa to America, the world is now suffering from COVID-19 pandemic. While scientists are working hard to develop vaccines against coronavirus, we, the general public, can do something essential on our side to help to prevent further spread of the virus to save lives. According to World Health Organization, the general public can actually perform a comprehensive "Do It All!" approach including social distancing (maintain a distance of 6 feet from another person), wearing masks, cleaning hands, improving ventilation and avoiding close contact to suppress virus transmission. The World Health Organization emphasizes that these constructive steps should be taken all together to be able to take effect. The website focuses on face mask wearing. In the following, we would like to firstly elaborate on the role that face mask plays in combating the virus, secondly define by whom should face mask be worn, and lastly tell how to wear mask properly to make sure it can really protect both the wearer and people around. Note please, this popular science article is for the general public only. Healthcare workers please find related guidance through professional health agencies.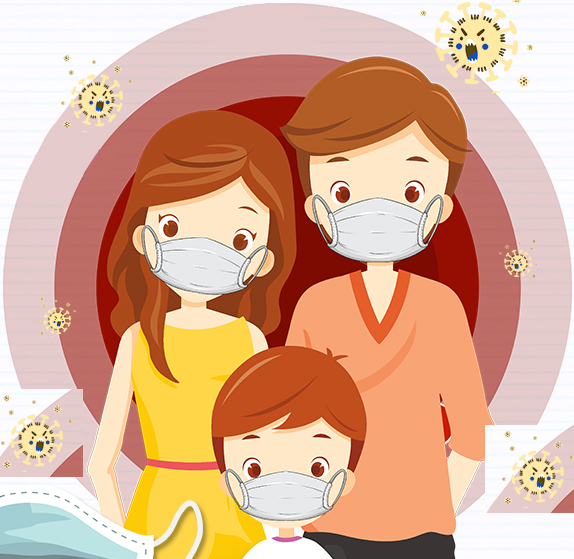 ☝ Wearing Mask to Save Lives during Covid-19
Why Wearing Masks Matters
We should firstly understand how does coronavirus spread from person to person to know the reason why face mask wearing is strongly recommended by top health experts from World Health Organization, the US Centers for Disease Control and Prevention (CDC), the European Centre for Disease Prevention and Control as well as other prestigious health agencies. Scientific researches have found that the virus is mainly spread through close contact and respiratory liquid particles such as larger droplets and smaller aerosols. The viruses don't leave the body of an infected person by themselves, instead, they come with liquid particles when a sick person coughs, sneezes, sings, talks or even heavily breathes. Once such droplets or aerosols containing the viruses land on or float into a healthy person's mouth, nose or eyes, he/she may get infected. Similiar with social distancing which reduces opportunties to come in close contact with infected people and contaminated surfaces, a properly worn face mask, can largely cut infection chance of coronavirus by snugly covering the wear's mouth, nose and chin. Wearing the face mask was initially proposed to protect other people to get infected. But now, more researches are showing it can protect the wearer as well. In the worst case scenario, face mask wearing can reduce the virus amount that the wear gets through and thus translating less servere illness. A study published in Health Affairs compared the COVID-19 growth rate before and after mask mandates in 15 states and the District of Columbia in the United States and found that the daily COVID infection growth rate had slowed by 2 percentage-points over three weeks. The efficacy of mask wearing is not doubtable which can be the reason why more and more cities across the world are enacting mask mandate to block the exhaled virus.
Who Should Wear The Face Mask
✔ In areas with community transmission in the past four weeks, everyone two years of age and above is advised to wear a mask in publc settings such as working place, restaurant, supermarket and public transport when he/she has other people around. ✔ People who is confirmed with COVID-19 or people who thinks he/she may get COVID-19 should wear a medical/surgical mask for the purpose of source control. ✔ People who takes care of the COVID-19 patient at home or in a non-healthcare setting should wear a medical/surgical mask as well. ✔ The elderly and people with underlying medical conditions are more vulnerable to the coronavirus disease and medical/surgical mask is recommended to such people for enhanced protection. However, the following people should not wear face mask and measures of adaptations and alternatives should be considered: ✖ Child under 2 years old. ✖ People who can't wear or take off the mask without the assistance from other people. ✖ Those who has breathing problems.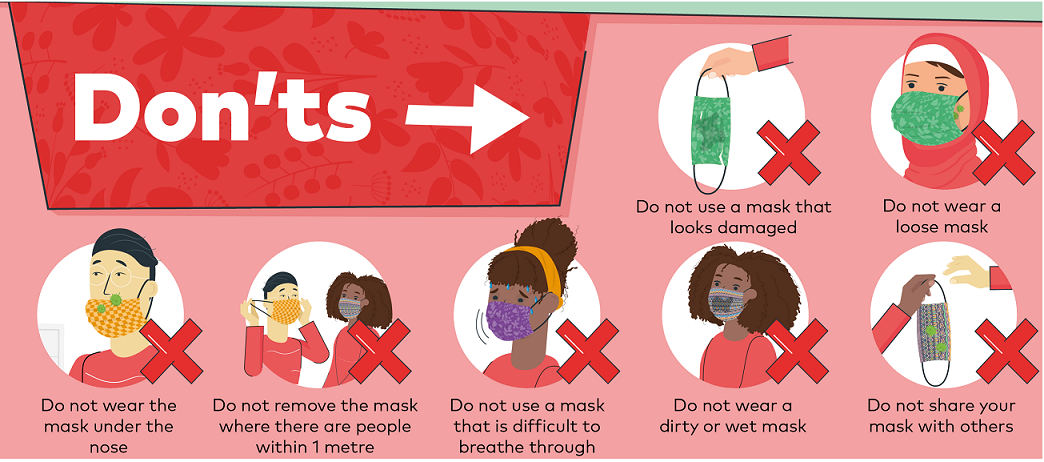 ☝ An Infographic on the Don'ts of Wearing Face Mask from World Health Organization
How to Wear Face Mask Properly
Many people would think wearing a face mask would be as simple as wearing clothes that can be done even by a three-year-old child. But the fact is not what you thought to be. Wearing a face mask correctly can be simple but not easy. There are actually some small issues you should take special care of before,between and after wearing face mask. Evil hides in details, a small loophole can even cause the face mask you are wearing inefficacy.
Checklist Before Wearing Face Mask
✅ Choose the right size mask for your face. Most vendors have small, medium, large and extra large face masks to sell. Please consult their customer support team to find a proper fit for yourself. ✅ There are many kinds of face masks in the market. Even though medical masks provide the best protection, World Health Organization recommends the general public to use non-medical, fabric masks to reserve medical masks to health care workers, patients suspected or confirmed with COVID-19 as well as groups who are at high risk for COVID-19 or who are vulnerable to COVID-19. ✅ Choose a mask which has multiple layers as studys proved that masks with at least two layers are more effective in preventing small particles. Don't choose masks with exhalation valves as they are ineffective at preventing the spread of COVID-19. ✅ inspect your mask and make sure it is complete and well kept and abandon it if you find it has tears, holes and dirt.
Correct Mask Wearing Procedures for the General Public
Before wearing the face mask, wash your hands with alcohol-based handrub. If handrub is not available, clean them with soap and running water for at least 15 seconds.
Take out a mask from the box and double check it to make sure the mask is flawless to use.
Find the upper part of the mask. The upside of a face mask usually has a bendable metal edge that is adjustable to fit the shape of your nose.
Determine which side of the mask is the inside and which is the outside. Normally the outside of the mask is blue or colored. Do use the inside of the mask which usually has light or white color to cover your face.
Cover your nose, mouth and chin with the mask and secure the strap such as ear loops and ties around your ears or hehind your head. Make sure there is no gaps between your face and your mask.
After putting the mask on, pinch the bendable metal edge on the upper side to make it fit on both side of your nose. That is, press and hold the mask against both side of the nose and make it close to the skin. Don't leave any gap between the mask and the cheeks.
The tighter the face mask is wearing, the better. Meanwhile, please also make sure you can breath and talk easily through the mask.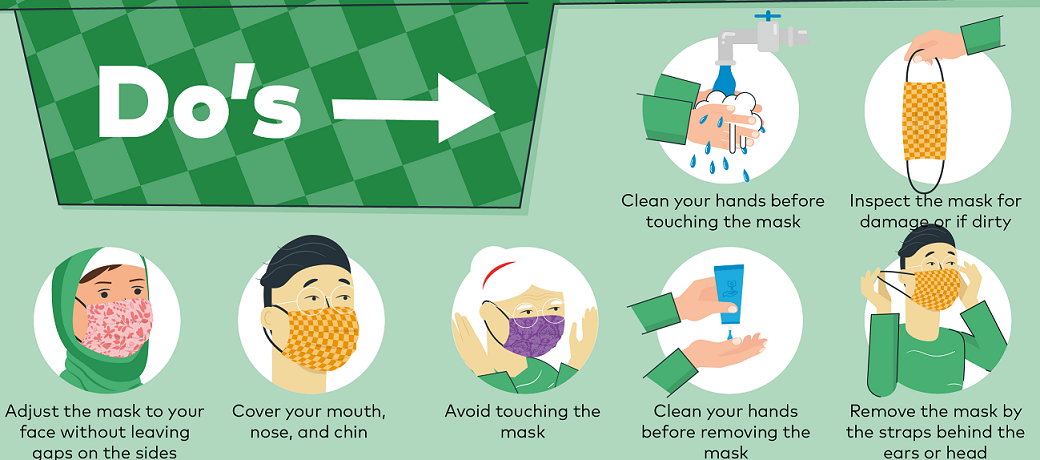 ☝ An Infographic on the Dos of Wearing Face Mask from World Health Organization
Things to Be Noted While Wearing a Mask
Be cautious not to touch the front of the mask while using it. If you accidentally touch it, do wash your hands with alcohol-based hand sanitizer or soap and running water for at least 15 seconds.
Only use mask that is in good condition. If you find it wet or dirty, replace it with a new one.
How to Remove A Face Mask
For some reason, it's time to take off the face mask, remove it properly.
Clean your hands as mentioned above before touch the mask.
Remember not to touch the front of the mask to remove it. Instead, you should firstly untie the strings or remove the loops from behind your head or ears.
As you remove it, lean the body forward and take the mask off from your face.
Only hold the mask straps and discard the mask immediately into a garbage bin with a lid preferably.
Clean your hands again as mentioned above after touching the mask.
Lastly, we want to remind that you should always remember to avoid closed spaces, crowded places and close contact during the pandemic and do clean your hands often and do cover your mouth and nose when around others. We also hope you will stay safe, stay healthy and stay well during the pandemic.
References: 1. Coronavirus disease (COVID-19): How is it transmitted? 2. Face masks: what the data say 3. Wearing a Mask May Reduce How Sick You Get from COVID-19 4. Still Confused About Masks? Here's the Science Behind How Face Masks Prevent Coronavirus 5. Considerations for Wearing Masks, Help Slow the Spread of COVID-19 6. Covid-19 New Zealand: Mask rules eased as cases drop 7.Coronavirus Face Masks & Protection FAQs
---